Chile face Argentina on Sunday evening in New Jersey as they look to claim back-to- back Copa America* titles. La Roja's presence in the final looked unlikely a couple of weeks ago, but threegames and a stunning thirteen (13) goals later mean Chile will begin the final in fine fettle.
Since Jorge Sampaoli's departure following scandals in the Chilean FA at the end of last year, Chile had struggled to find the kind of form that lit up the last two World Cups and the last CopaAmerica. Juan Antonio Pizzi was the new man at the helm, and following Chile's 2-1 defeat to Argentina in their opening match of the Copa America Centenario, Pizzi's record read: Played 5,Won 1, Drawn 0, Lost 4. The heat was on.
A late and somewhat fortunate 2-1 win over Bolivia in their second match of this tournament did little to ease fears that this Chile side were on a downward spiral. Much like in the Argentina game,Chile were sloppy, lacklustre and lacking in cohesion. The form of Charles Aránguiz and ClaudioBravo were of grave concern given they had been Chile's most consistent performers in recent years, yet both had started this tournament looking lost and uncertain.
A 4-2 win over Panama saw an improved display with notable performances from attackersEduardo Vargas and Alexis Sánchez, who combined well together for the first time in months. TheCentral Americans were missing a number of key men so it was difficult to judge the strength of Chile's performance. Nevertheless, the comfortable victory gave this Chile side their confidenceback; something Mexico would find out few days later in the quarter final in Santa Clara, California.
Heading into the match against Mexico, it was the CONCACAF side that were many people's favourites, and not just for the match but the competition itself. The 2015 Gold Cup winners had turned this Copa America Centenario into a home tournament with fanatical home support across the southern states of the USA and confidence was growing in the Mexican camp, but they were given a rude awakening when Chile came to town.
In the tunnel it was clear the Chileans looked the far more relaxed and inside 2 minutes we would see goalkeeper Claudio Bravo bring down a long Mexican ball on his chest just outside his box and then pass it off to Gary Medel with consummate ease. It was a move that bordered on arrogance and it set the tone for the swaggering display that followed. To underline their conviction, Alexis Sánchez juggled the ball for a few seconds before the first goal had even been scored.
Lionel Messi has quite rightly been praised for his excellence so far in this Copa America, however a case could be made that Alexis Sánchez has been the player of the tournament so far. Despite his side getting off to a slow start in the competition, El Niño Maravilla has always looked sharp and the most likely to spark Chile into life. Once he got those goals against Panama in the final group game, Sánchez went on to torment the defences of Mexico and Colombia, both of which had decent defensive records and looked organised in previous matches. Against Mexico, he was involved in all seven Chile goals; a quite extraordinary feat.
Despite his undoubted match-winning talent, Chile are never reliant just on Sánchez. Eduardo Vargas continues to be one of the most lethal strikers in international football and could end this tournament as top scorer for the second year running. Furthermore, Arturo Vidal came up big against Bolivia and produced a dominant midfield display against Mexico, while Charles Aranguiz followed suit against Colombia. Aranguiz's performance in the semifinal was especially notable given that both Vidal and Diaz were missing and he also lost another centre midfield partner, PedroPablo Hernández, in the first half and had to guide the inexperienced Erick Pulgar through the game.
//giphy.com/embed/xT8qBqK3VojFvSQr84
Around these key men are lesser known players such as Edson Puch, Jean Beausejour and Jose Pedro Fuenzalida. Beausejour is perhaps the most widely known of the trio due to his time in thePremier League and scoring in two different World Cups, and he is a player that at international level at least, has made as much of his talent as possible. Under Pizzi, fellow attacking wide men Puch and Fuenzalida appear to be following his lead. Neither man rarely shines at club level, but they have looked transformed players in the red shirts of Chile this June. Their boss has used them wisely so far, and it will be interesting to see who gets the nod against Argentina.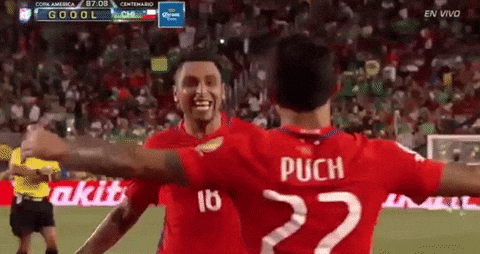 Elsewhere in the side we have seen Claudio Bravo regain his confidence after a poor start to the tournament, possibly due to personal issues. Nevertheless, the main worries with this Chile side remain. The lack of height at the back continues to be of concern as does the presence of Gonzalo Jara. Jara has been a good servant for Chile, but his ban from the semi-final and final of last year's Copa America was a blessing in disguise, and in this Copa America he has often looked one touch away from disaster.
Argentina start the final as favourites, but in last year's decider Chile were deserved winners; denying Messi a shot on goal and winning the battle for possession and chances before eventually winning on penalties. The general feeling at the time was Argentina were disappointing, but they can't afford to be again or Chile will surely make them pay again. La Roja have had the harder route to the final and some pundits believe that Argentina never got out of first gear in the thrashing of the USA in the semis. Will Argentina arrive to New Jersey undercooked, or will Messi simply have too much for Chile this time? Whatever happens, it is sure to be fascinating.
*Used loosely. This Copa America is one-off event and if Chile lose tomorrow they will still be considered Copa America champions
Written by Adam Brandon.